New Books for Spring!

FLOWERS ARE CALLING by Rita Gray
A new book from the same team that brought us Have You Heard The Nesting Bird? " Flowers are calling a little black bear. No, not a bear! He doesn't care. They're calling a butterfly to dip from the air." In rhyming text, Rita Gray shares the beauty of natural cooperation between plants, animals, and insects. Flowers depend on winged visitors to spread their pollen to insure that they thrive, and winged pollinators depend on flowers for food. The illustrator Ken Pak provides a luminous close-up of each flower, inviting children to take a closer look. Ages 4-8.
THE BEE WHO SPOKE by Al MacCuish
"Once upon a time in the great city of Paris, near Rue Saint-Rustique in the 18th arrondissement, there lived a girl named Belle. " On Belle's family's annual summer holiday in the French countryside, Belle pedals off into the countryside, where she meets the title's bee. The talking bee teaches her about the wonders of the natural world, the way bees pollinate flowers so that humans can eat delicious food, and the symphony of all of nature working together. The illustrations by Rebecca Gibbon reinforce the originality of this fantasy-and-nonfiction book. A list of "delicious foods" needing bee pollination is appended. The environmentalist message makes it a nice picture book for older readers.
WHEN YOU NEED A FRIEND by Suzanne Chiew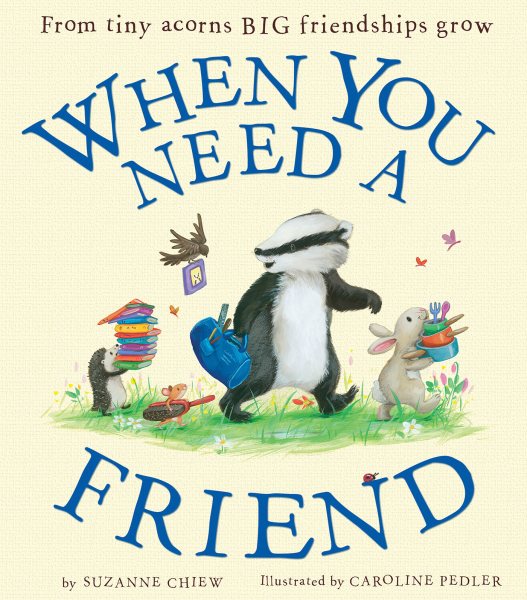 Badger helps his friends prepare their homes for a storm, but runs out of time to protect his own home. When the storm has passed, his animal friends offer him a place to stay while they band together to help him rebuild. Children will enjoy the soft detailed illustrations by Caroline Pedler. A classic tale of friendship, teamwork, and community. For Ages 3-7.